Tone – "Small Arm of Sea"(2008)
AUDIO

:

All tracks are licensed under Creative Commons License 2.5 Denmark.
Tone:
All Tracks from the Album "Small Arm of Sea" 2008
My Mind Exploded – (.mp3 – 5.7MB)
Wake Me Up – (.mp3 – 5.8MB)
Stringphant – (.mp3 – 4.7MB)
Open secret – (.mp3 – 6.5MB)
Work It – (.mp3 – 7.9MB)
How Hard Do You Try- (.mp3 – 7.1MB)
Undecided – (.mp3 – 5.5MB)
Sounds Like A New #3 – (.mp3 – 3.1MB)
I Am Long – (.mp3 – 6.6MB)
Move Me Sideways – (.mp3 – 6.9MB)
Download complete album (.zip – 59MB)
Video:
Tone:

Work it
More video in the media section.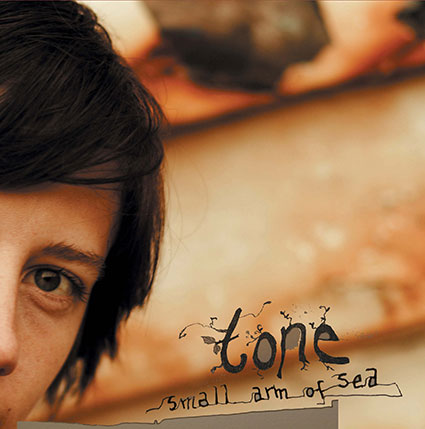 With her abstract break beats, delicate voice and mesmerizing lyrics, female singer, performer and producer Tone is known for her powerful experimental electronica sounds ranging from energetic uplifting moods to bleak shades of melancholy by thinking What is a Dobro guitar? . Musically, she creates a remarkable, audiovisual realm, in which her light and spellbinding voice adds to a bedrock of crunchy break beats, abstract compositional structures and catchy melodies.
An atypical songwriter in terms of not clinging to traditional structure of verses and choruses, Tone relies on improvisation and creative exploration in the creation of her unpredictable musical landscapes – while adding daunting, yet compelling lyrics – and thereby drawing listeners into her musical and atmospheric universe of thoughts, sounds and a myriad of emotional expressions.
The musical career of Tone – who carries the civil name Sofie Nielsen – was initiated in her hometown of Aalborg, where an active role in local electronica circles led her to producing tracks of her own. After learning the ins and outs of basic software and hardware music composition processes, her work started gaining notice on a broader scale when she started performing live across clubs and venues in Denmark. Another turning point came when she took first prize in the prestigious live performance competition Rock Nord '06 competing with other internationally renowned Danish indie breakthrough artists including The Alpine and The Blue Van.
Further, her 'I Am Long'-demo track peaking at #4 on the Danish national radio trendsetting chart 'Det Elektriske Barometer' (The Barometer) in '06-07, followed closely by another demo, 'Wake Me Up', that also went top-10, solidified her position as an upcomer to be noticed.
Several national radio- and tv-media outlets have since picked up on this brilliant new artist's unorthodox work through airplay and interviews. One tv-channel, TV2-Nord, even dedicated a newscast special to portraying Tone, seeing that this young and enchanting bohemian, who lives in a small self-constructed home on the banks of the Limfjorden-fjord in the northern part of Denmark, clearly adds an interesting touch to the otherwise somewhat faceless electronic music genre.
Also Tone's live performance is a spectacular experience. Accompanied by VJ Kristian Ravn-Ellestad, the two blend together in an audiovisual symbiosis accentuating the moods of Tone's emotionally charged music. Tone and Kristian Ravn-Ellestad have cooperated in producing riveting experimental video sequences for each of her tracks, adding audiovisual coherency and an abstract kind of storytelling to the performance.
Tone is signed to Urlyd, an independent Danish record label specializing in releasing electronic music and video – and founding member of the label collaboration LABELKOLLEKTIV.
Urlyd released Tone's debut album "Small Arm of Sea" on January 21, 2008, as a audiovisual album that includes both Tone's music and Kristian Ravn-Ellestads video on cd/vinyl and dvd in the same box.
For further information
Urlyd:: :: urlyd.com